Teeny Tiny and Itty Bitty Nature Journal Printables for PreK and Toddlers!
Picture it: the big kids are on their nature hike, and the toddler is either whining to get out of the stroller or backpack, or crying to get back in it. What if your toddler could join in the fun? What if your preschooler had a resource that needed no (or very little) reading, with cheery drawings, and easy, fun activities? Designed to compliment the picture book, A Year With Mama Earth, this printable includes Two options.
Teeny Tiny Nature Journal
Is perfectly sized and designed specifically for Preschoolers. Bright illustrations pair with text, with lots of space for little ones to draw and create! The journal can be printed multiple times and used throughout the school year, during any season. Children will learn all about:
Observing Weather

Seasons

Animal Tracks

Dressing for the Weather

Colors

Similes!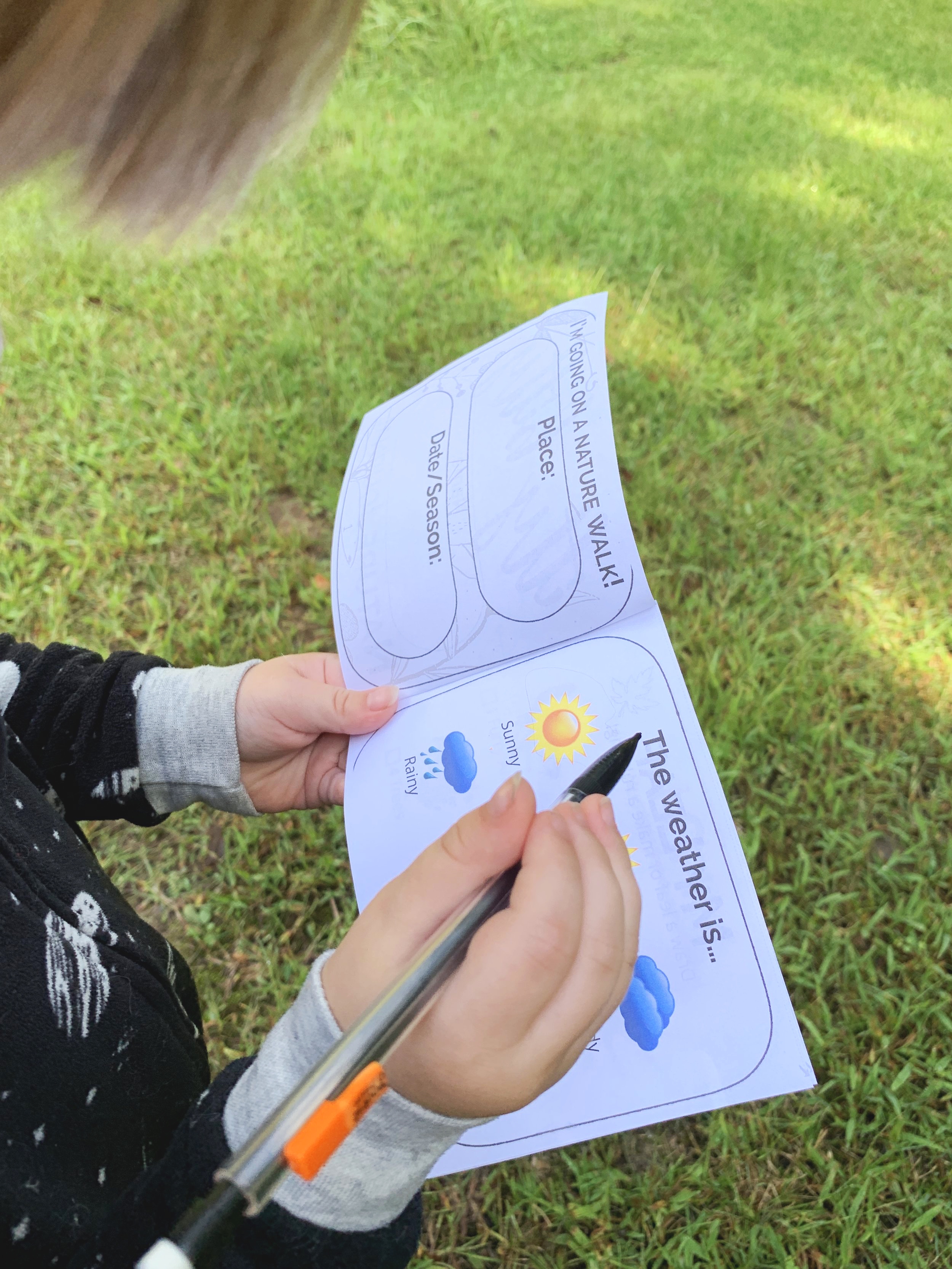 Itty Bitty Nature Journal
encourages preschoolers and toddlers to be actively engaged outdoors!
Itty Bitty Nature Journal
Is created with toddlers in mind. What could be more fun (and educational) than letting your tiny tot join the "big kids" with their very own nature journal! It's small, full of space for creativity, and super easy to print and assemble. Topics introduced include:
Observing Weather

Bugs

Leaves

Animal Tracks

Counting

Similes!
Download the Free Printable Toddler and PreK Nature Journals
If you have trouble with the Teachers Pay Teachers download, you can download the Toddler and PreK Nature Journal here!
How to Assemble
For best results, print on heavy paper, double sided, with pages bound on the short side (click through your printer settings to find this).
For the Teeny Tiny Nature Journal, simply fold in half, stack pages, and staple or bind with a hole punch and string. (This video shows how to bind with an awl and string, but you can use a hole punch, making two holes instead of three.)
For the Itty Bitty Nature Journal, cut along the dotted line, fold, and assemble according to the page numbers. Then staple or bind with string as above.
How do you encourage outdoor exploration with your toddler or preschooler?